Introduction of Construction Methods
Method Using Boring and Pile Erecting Vehicle
(Foundation construction work using a boring and pile erecting vehicle)
Applicable to construction works at confined or narrow spaces or to a simple foundation pile.
Using a boring and pile erecting vehicle, boring, pile erecting and ground care works will be carried out.
We prepare Auger, Clam Bucket, Down The Hole Hammer and others to be used for various soil properties so that our machines can work in diverse conditions.
Application
Concrete Pile Foundation
Simple foundation
General Pile Foundation
Foundation work at narrow spaces or the like
Bedrock excavation
Construction work for erecting piles for road signs
Iron tower foundation
Pile erecting work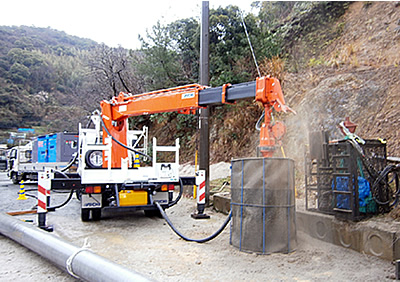 ~Excavation for Concrete Pile Foundation by Down The Hole Hammer Method~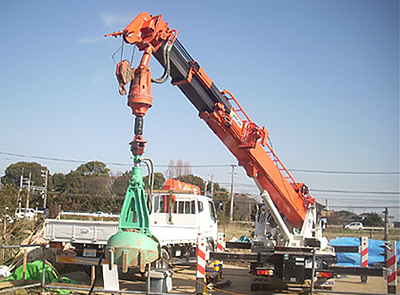 ~Iron Tower Foundation Work using Clam Bucket Method~