Introduction of Construction Methods
BH Method
(large drilling construction)
Applicable for drilling works even at an underpass, indoors and in narrow spaces.
This is a drilling method by using large type drilling machine to circulate slurry by using forward circulation method.
Inject excavation slurry by using a side-pump, then discharge the excavated musk out of a hole by the fluid moving method.
Cast-in-place concrete pile, H steel pile, steel pipe piles can be casted.
Application
Cast-in-place pile
Preboring work for ready-made pile
Preventive pile
Foundation work at low attitude head pile
Soldier pile for retaining wall
Foundation work at narrow spaces or the like
Steel pipe pile
Iron tower foundation and so on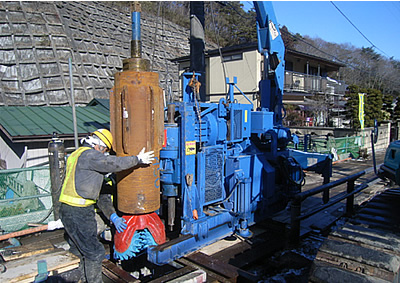 ~Bedrock excavation using tricone bit~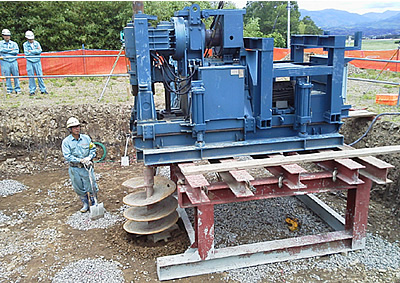 ~Excavation status by auger head~